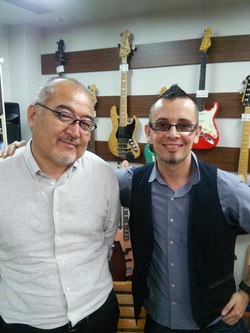 Visited Atelier Z today to talk about this years orders....
smile emoticon
We had a great chat and talked shop....
Really top blokes....Father and son running a great business making some of Japans top end basses and guitars.
I just loved the atmosphere there and they were so kind and accommodating. Among some of the pics on the wall were Richard Bona, Bluey Maunik and Francis Hylton of Incognito! All previous or current users of Atelier Z bass guitars.
There was a wall of amps there just for testing their circuits...just about every amp and cab under the sun!
If you want an Atelier Z just holler I can arrange the build and offer great prices, as some of you already know
;)
I just started working with these guys this year so I don't have much to show yet.
But here's one of their top range beauties in action.
https://youtu.be/dawJ_BCU1DA
And at the lower end of the spectrum a JHJ189 (old review of mine)
https://youtu.be/utQ4dvcNpow